At the moment we are experiencing problems with card payments and are unable to debit credit cards. If you order an FFE book you can pay with bank transfer or Swish otherwise you can visit our sister shop FACITstamps, order the book from there and pay with card.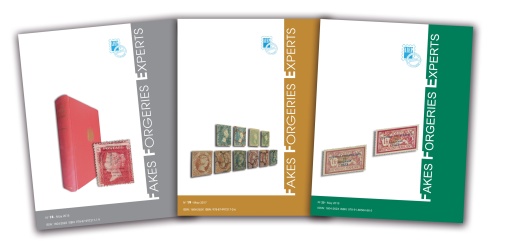 Fakes, Forgeries & Experts Journal (FFE) addresses all philatelists, advanced collectors, exhibitors, experts, dealers, auction houses and philatelic organizations. The straight forward and consistent purpose with FFE is to inform collectors and exhibitors about fakes and forged items. FFE also explains how philatelic expertizing works. Informing the collectors mean protecting them from fakes and forgeries.
Preview the different Issues
Are you curious if the FFE-Journal deals with a topic that is relevant for your collecting area? Here you will find illustrated previews of all articles in every issue.
We offer individual articles for sale, allowing you to acquire an article without buying the whole volume where it is featured.

This way you can order specific articles relevant for exactly your field of study - also from sold out volumes!